How To Choose Between Two Men: 9 Questions to Ask Yourself
Hey, it's a tough problem, figuring out how to choose between two men! Some women don't even have one man to "choose," so consider yourself lucky that you have options.
The conundrum that dating presents is that you may talk or go out with several men at the same time. The idea is that you don't get too emotionally invested in one (especially because you have to assume he's dating other people too), and you get the chance to know a few guys at once so that you can find exactly what you're looking for.
The problem is: what happens when you end up caring for two of them? You're left with a difficult decision, and of course, you don't look forward to hurting either one of them.
I'm going to help you learn how to choose between two men so that you pick the one who is more likely to end up being Mr. Right long term.
I Have Feelings for Two Guys…What Do I Do?
Right now you're spinning out. You love that Peter texts you first thing in the morning to make sure you slept well and that you have a good day…
But it's kinda awesome talking to Dave for two hours late into the night.
Peter is chivalrous and romantic…
Dave is artistic and quirky.
Peter makes you feel safe…
Dave pushes you to try new things.
The comparison and contrast go on and on. How in the hell did you end up with two amazing guys? Now the decision of how to choose between two men is stressing you out, and you need help, stat.
These two guys may know you're dating someone else…or that might be something you've kept quiet and now you feel guilty about it. Things are escalating emotionally with each one and you know you have to make a decision so you can set one free to find his own happiness.
You're just not sure who you want to let go of.
Take a deep breath. I'm here for you. I'm going to walk you through some important questions to ask yourself in the hopes that it will shed some light on this subject.
How to Choose Between Two Men: 9 Questions to Ask Yourself
You're going to need to commit some serious time and mental energy to this subject, so let both guys know you're having a night in by yourself. Turn off your phone and pull out your journal. Be ready to be completely honest with yourself about what you want, what you need, and what each man is or isn't giving to you.
1. What Am I Attracted to About Each Man?
I'm guessing if you've gotten to the point where you feel like you're falling for both of these guys, attraction extends beyond just the physical. So yes, Peter might be a Nordic god while Dave is tall, dark, and handsome, but what else draws you to them?
Make a list. It might look like this:
Peter
Financially stable
Makes me laugh
Makes me feel safe
We have a lot in common
Dave
Makes me want to be a better person
Introduces me to new things
We have amazing physical chemistry
Makes me feel beautiful
You may even have some qualities on both men's lists! Neither list is better or worse than the other; at this point, you're just working to clarify what it is you like about each man.
2. Who is Ready for a Relationship?
Naturally, you're figuring out how to choose between two men because you're ready to build a deeper connection, maybe get physically intimate if you haven't already, and work on creating a lasting relationship.
But step away from what you want, and read the signals the two men you're interested in have been giving off. If you haven't had the whole "what are you looking for?" conversation, you'll have to base your answer on actions.
Does either man talk about the future ("when I take you to meet my parents at Christmas…")?
Has either called you his girlfriend?
Does either still have his online dating profile up?
Do you spend significant quality time with either man or does it seem to be centered around having sex?
If you have had that discussion, you probably have a better idea of what he's looking for. But how well does it align with what you want? You may both be looking for something long-term, but, for example, does he want kids while you don't? Does he have a job transfer looming in the nearish future? These are all things to take into consideration as you figure out how to choose between two men.
3. What Does My Wish List Look Like, and How Does Each Man Stack Up?
If you've made a list of what you want in a man, pull it out and review it. Read it twice: once with each man in mind. Now write out which qualities each man has from your list, and which he doesn't. For the ones he doesn't, are those dealbreakers or nice-to-haves?
For example, maybe your list says you want someone who has all his hair. But Peter is thinning. Is that really a dealbreaker? Probably not.
Which of the men meets more of your specifications?
4. What Reservations Do I Have About Each Guy?
Before you say, "Adam, there's nothing wrong with either man!" I want you to dig deeper. If you've been seeing these guys for several weeks or months, I'm willing to bet there are a few things that either worry you or just plain annoy you.
Maybe Dave chews with his mouth open. Or has trouble talking about his feelings.
Perhaps Peter had a vasectomy and you really want kids. Or he is obsessive-compulsive when it comes to keeping his house clean.
Big or small, there are likely things that should make you hesitate before moving forward in a relationship. Certainly, you can deal with Dave's open-mouthed annoyance, but you still should admit that it bothers you.
5. What's the Sexual Chemistry Like?
This presumes you've been intimate on some level with each of these men, but if you haven't, base your response on the passion you feel. I'm sure you've kissed or made out and can at least think about how hot (or not) that was, and how much it made you anticipate (or not) eventually having sex.
Helen Fisher, a biological anthropologist at Rutgers University and Match.com's science advisor, has long studied mating and love. In the stages of a relationship, both lust and attraction are heavily dominated by chemical reactions in the brain, Fisher found in her 1997 paper, "Lust, Attraction, and Attachment in Mammalian Reproduction."
Lust, naturally, is more sexually driven, while attraction is when your feelings start being a little more emotional. Then attachment, which still involves oxytocin in the brain, is more about that emotional bond that physical one.
But still, to get to attachment, you've got to have smooth sailing with the other two stages. That being said…what is that chemistry between you two like? Do you find yourself thinking about being intimate with one or the other man? If you have been, do you walk away fulfilled? Are you equally matched in your desire?
6. What Do Your Friends Think?
While certainly, this will be your decision to make in terms of how to choose between two men, it can't hurt to get a little input from your friends, especially if they've met one or both men. They've seen how you've talked about and acted around each, so they may be able to see things that you can't with your biased perspective.
You may gloss over the fact that Peter is always late, and that you've complained about that a ton to your friends. Or that Dave seems to be aimless when it comes to his career, and that's something they know is important to you.
Definitely take your friends' advice with a grain of salt, but also be open to really hearing what they have to say. They only want what's best for you, after all.
7. How Does Each Man Make You Feel About Yourself?
The man you choose as your partner should make you feel happy and want to be the best girlfriend — and one day wife — that you can be. He should never ever make you feel small, unattractive, or unworthy.
You may even feel like two different people, depending on which man you're with. Which version of you do you like better? Which is more authentic?
Let's say Peter is a vegan, and you always eat vegan when you're with him. Now, you're not a vegan, but you convince yourself that you don't mind it. But what happens long term if you're with him? Will you cook vegan meals for the two of you at home? Does this persona feel forced, or like something you'd embrace, regardless of being with him?
8. How Does Each Man Feel About You?
Even if one or both of these guys are ready for a relationship, that doesn't mean you know how he feels about you. Ideally, you want to pick the man who matches how you feel about him. And you should choose a man who has no problem communicating his feelings to you.
Don't assume that Peter is falling for you simply because you feel like you're falling for him. Do you have proof or at least a strong reason to think so? It might be worth having a conversation with him to find out. Once those feelings are confirmed, your problem of how to choose between two men may be solved.
9. What Does Your Gut Tell You?
If you've gotten this far and still don't know how to choose between two men, I want you to pretend I'm holding a gun to your head (I'm so sorry to do this! It's only a theoretical gun.). Now: which man will you choose? Don't deliberate. Just say aloud the name that comes to your lips.
Did the name surprise you?
Not really? Well then, you knew already who you would choose! But I get it. Sometimes we struggle to trust our intuition about big decisions. That teeny voice seems to come out of nowhere, and it's easy to ignore. After all, it often whispers without any evidence to base its opinion on. And so we ignore it. And yet, down the road, we find that the voice was right, and that ignoring it was at our own peril.
So trust your gut a little with this decision. It may know more than your brain right now.
Tips for Deciding How to Choose Between Two Men
You've asked yourself the hard questions. Let me leave you with a few tips to make the decision and then help you let one unlucky man down gently.
Don't Rush the Decision
I know you feel like the sooner you can figure out who you want to be with, the better. But realize this is a major decision! Not to put too much pressure on you, but it could impact the rest of your life. So take your time. Journal about it. Talk to friends. Simmer over it in a hot bubble bath. Whatever you need, and however long you need.
Spend Time Away from Both Men
You probably won't be able to have an unbiased view if you are spending time with one or both guys during this decision-making process, so take some time to be alone for it. You don't have to tell them why you need to be alone. Just carve out a few evenings or weekends to think about it. Let them know you won't be available so you won't be distracted by their texts or calls.
Realize: It Might Be Neither
You've put a lot of energy into how to choose between two men, but the truth is: neither might be right for you. I know that's not what you want to hear, but realize that if each man fulfills you in some ways but not all, your attraction to them both might be because you're looking for the whole package and not finding it.
Helen Fisher (hey, she's a wise woman when it comes to love and attraction!) identifies three brain systems at work with dating and romance:
Attraction
Romantic love
Sex drive
It's entirely possible that one man has one or two of these for you, but not all. So you could be trying to piece together all three with more than one man. In this case, you may be better off pulling away from both men and holding out for the whole enchilada.
Plan Out the Letdown
Once you've made your choice, spend some time considering the conversation you'll have with the man you didn't choose. It's up to you whether you let him know you're falling for someone else or if you just say you'd like to just be friends. No matter what you say, the conversation may not go that well. Be okay with that. He may feel hurt if he felt like he was falling for you, and he may lash out angrily. Know that you're doing him a favor: the sooner you let him go, the sooner he can move on and find the right woman for him.
Conclusion:
Figuring out how to choose between two men isn't an easy decision, but it's the right one. Rather than stringing them both along because you're too scared to end things with one (or both) of them, you're owning your decision for happiness. But you have to realize: despite you trying to choose the man that best fits your needs, that doesn't guarantee that it will work out long-term. You take a risk in love every day, and this is no different.
So tell me: have you ever had to struggle with how to choose between two men? What helped you make the decision, and looking back, do you feel it was the right decision at the time? Leave a comment below.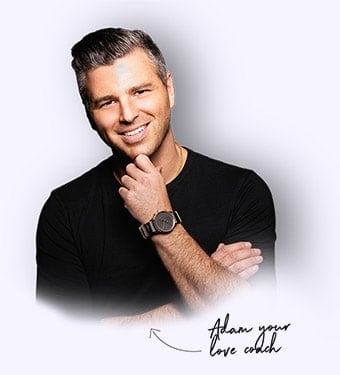 Love Strategist
My true passion in life is transforming your love life by giving you specific tools and techniques that you can use to attract long lasting love. I got started when...Read Adam's Story
What do you think? Share your thoughts below...