8 Types of Guys You'll Meet Online (and How to Filter Through the Duds)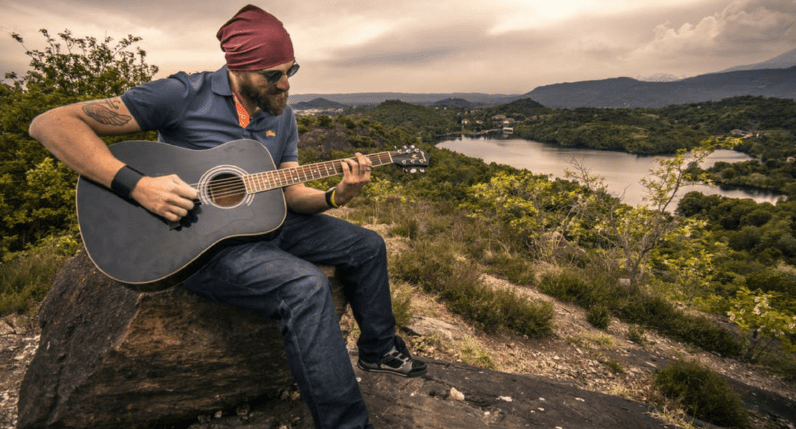 Lasting Love is the result of a powerful strategy. Ready to get started? Click here to learn the strategy (it's free)
When you spend time on dating apps and sites, you start to notice some patterns in terms of the types of guys you'll meet online.
Some, you give two thumbs up, like the Active Outdoor Guy, but others, like the following, you can just swipe right on.
1. The Workout-Obsessed
His profile says his likes are "protein powder and deadlifts."
His primary photo is of him, sweaty in a sleeveless shirt, flexing his bicep for you, the helpless female. Unlike many men, he seems utterly comfortable taking selfies of himself, as long as there's a mirror and a bench press behind him.
On a date: Don't be surprised if he leaves mid-meal when he realizes he skipped leg day. And carbs are definitely off the menu for him, so he might raise his eyebrow if you order the fried chicken with pasta.
Expect him to pay more attention to whether he's flexing his muscles in an appealing way to the opposite sex than actually listening to you.
2. The One-Thing-Only Dude
He's burned up the entire female population of Tinder, so now he's on your fave app.
And he's looking for…
You guessed it…
Sex.
Regardless of the fact that Bumble or OKCupid or Match markets itself for people looking for love and relationships, he's dropping sexy bombs left and right.
"Damn girl. You fine."
"Got plans tonight? Want some?"
On a date: What date? He'll invite you to come over to his house late at night! He may even deny that he's all about that bootie, but don't trust him. After all, he is the king of the "hang out."
3. The I'm-Looking-for-the-One One
Here's another of the guys you'll meet online. His profile makes it clear: he's looking for long-term potential. He loves walks on the beach, doing laundry together, and puppies.
Now, there's not anything wrong with this dating profile type, unless it comes off as a little Fatal Attraction-y.
And it can.
His first question to you is: do you want kids?
Before you know it, he's done a deep dive into your relationship history, asking what went wrong with each one. He might even take notes.
On a date: He will be assessing you as a potential bride, maybe even discussing possible wedding venues and honeymoon destinations. Are you cool with that?
4. The Partyer
All of his profile pics show him with a beer or shot in his hand, as well as 15 of his closest friends.
He's drinking at the ski lodge.
The beach.
College campus.
Church.
This guy is looking for a good time, and a lady to help him enjoy it. But you better be able to keep up with his drinking skills; he's been known to down entire bottles of whiskey followed by a six-pack of beer and still remain standing.
On a date: I hope you weren't planning on a nice meal at a classy restaurant. He's more the Hooters type, especially at happy hour. You can be sure that drinking will be involved. Good thing; then he won't remember you walking out in the middle of his beer bong trick.
Editor's note: Ready to attract love with a proven strategy? Watch this free video to learn the 7 powerful steps
5. The Insecure Obsessive
All you want is a man who actually reads your profile, who pays attention to you and wants to get to know you.
This guy does…but goes a little obsessive.
In his first message to you, he mentions at least 20 points from your bio, which is a bit creepy.
"I see you like to travel, specifically to Poland three months ago. My mom's first cousin twice removed was married to a Pole. Speaking of married, I see you have been married and are looking to get married again. What does your schedule look like? My mom likes spring weddings. You could wear her dress."
Also he doesn't post a photo of himself. Because he's so confident you'll fall for his bumbling game that you won't care that he's a schlub.
On a date: He might not get as far as actually having the nerve to ask you out. Plus the Star Trek convention is in town. And his mom doesn't approve of your photo.
6. The No-Clue Selfie Taker
He might be cute, but the fact that his face is blurry in all his profiles puts you off. While you've mastered the art of taking a dating profile pic, he doesn't even seem to care that his photos make him look older and less attractive than he actually is.
Are you interested in a guy who can't get such a tiny detail right?
On a date: If he puts such little effort into his selfies, can you actually expect that he won't show up in torn cargo pants and flip flops on your first date?
7. The I'm-Too-Good-to-Be-True Man
His profile is filled with stories of rescuing babies from burning buildings (of course! he's a fireman!) and how much he loves his mama's cooking.
His photos all include animals, and the caption, "Meet Fido, my best friend and homie!"
He says everything you could want to hear from a man on a dating site.
Don't you think he knows this?
His game is good. He knows how to hit those pain points of the average female.
Only…no one can be that amazing.
On a date: Upon meeting this guy, you realize his in-person stories don't match up with what his profile says ("Did I say I was a firefighter? I meant I'm an accountant for a firefighter.").  You leave mid-date disappointed that you didn't find a unicorn.
8. The "Not As-Seen-on-TV" Guy
He's cute in his pictures. He seems fit and a pretty snazzy dresser.
But when you walk into the restaurant where you're meeting, you don't see him anywhere. There's just a balding overweight guy in the corner.
Wait a minute.
That's him!
So unconfident was he that he posted 10-year-old photos in an effort to snag your heart before you met him in person.
On a date: Besides the fact that this guy did not deliver the promised goods, you're put off because he lied. You're not trying to be superficial, but you might have been more okay with his receding hairline if he'd actually shown it in the photos rather than posting himself in all his high school glory. Order the most expensive thing on the menu to get your revenge.
They say online dating is a numbers game. You'll have to sift through losers like these to get to the gems that are buried. Don't despair, pretty lady. You'll find him. Just have patience and a good sense of humor.
Are there other types of guys you'll meet online that you've encountered? Share some funny stories!
What do you think? Share your thoughts below...