3 Reasons Why NOW Is the Best Time to Find Love
In addition to being an economic and financial disaster, this coronavirus has also become an emotional disaster. We aren't able to connect with the people we care for like we used to. We miss the physical connection. Video doesn't always cut it.
And if you're single…that might make things worse.
You're lonely…you feel disconnected…and you're envious of your girlfriends who are locked up with their romantic partners.
Not to worry, you sexy, confident woman: there is hope. I actually think that right now is quite possibly the best time to find love, and I explain why in this video.
So why do I think now is the best time to find love? Well, if finding love wasn't working before, when you could go out and meet men, now it's time to shake things up. The rules—if there are any—have changed, and the odds, my dear, are now in your favor.
The fact is, you have the time to prioritize your love life right now. When you're a successful woman, you sometimes have to drop everything for a work issue or to help a friend. Add that to your regular schedule of gym time and happy hour, and let's be honest: you don't always prioritize looking for love in your regularly-scheduled life.
But right now, much has been put by the wayside, so you have the time and energy to focus on what you want: to find a loving and lasting relationship. As Tony Robbins says: "where focus goes, energy flows." If you're serious about finding a relationship, now is the time you can truly dedicate to that goal.
I also hear from a lot of women who think now is the best time to find love because they can build more emotional attraction before it gets physical. It can really put you off if you go on a first date with a man only to realize he's hoping to take you home after he buys you a beer. Well, that's not an option right now, so you have the rare opportunity to get to know a guy and build emotional attraction with him before you even meet. If a man is looking for a hookup, he's probably not bothering to be on the dating apps right now because he's not interested in getting to know you. You're left with men who actually do want to build that emotional attraction with you.
And finally, I think now is the best time to find love because a lot of people are searching for love. They're lonely. They're looking around and thinking, "man, I wish I was stuck in quarantine with someone special." And they're willing (just like you) to put in that effort to find someone they can connect with.
So what about you? Do you see the possibilities for love right now? Leave a comment below telling us what you're doing to find it right now.
Your Coach,

P.S. Having the time to prioritize looking for love is just one step. Now you need a great resource like the Love Strategies Lab to teach you what you need to know to find Mr. Right. Join the lab today.
PS. If you're ready to start attracting men on a deep emotional level, then join me on this free webinar to discover the 3 steps to building emotional attraction – Register here to get started (it's 100% free).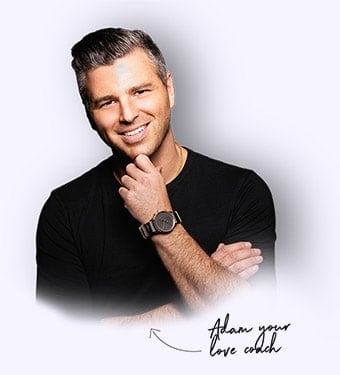 Love Strategist
My true passion in life is transforming your love life by giving you specific tools and techniques that you can use to attract long lasting love. I got started when...Read Adam's Story
What do you think? Share your thoughts below...