5 Coronavirus Dating Safety Tips [MUST WATCH]
Times are strange right now. You can't sneeze in public without people wiping you down with Clorox wipes.
So what does this do to your dating life? How are you impacted? Should you even go on dates right now?
You've got questions about coronavirus safety dating tips…and I've got answers. Let's stay safe right now, folks.
Your Coach,

P.S. Even if you're burrowing in your home right now, you can still up your dating game by joining the Sexy Confidence Club.
Love in the Time of…Coronavirus
You can let fear eat you up and keep in you in your house…but that's a surefire way to feel lonely and sad. Instead, follow these coronavirus dating safety tips to stay healthy and still be open to meeting the man of your dreams.
1. Practice Social Distancing
Seems common sense: don't go to crowded places. Yet, I'm still seeing a lot of people packing into bars and restaurants. Be smart. Rather than risking exposure to the virus, stay away from places with 50 or more people.
If you're going on a date, meet in a park or go for a walk.
2. Use Technology to Avoid Loneliness
This situation is absolutely unprecedented. But one silver lining? We have tools to help us stay connected.
We're all going to feel lonely in the coming weeks, whether we live alone or not. Technology is going to help us avoid a "loneliness pandemic." So make sure to use all the tech tools you have at your disposal: Facetime. Skype. Texting. Email. Facebook. Instagram. And yes, dating apps.
Even if you pull away from meeting face-to-face for a while, you can still get to know someone through technology. Sure, start texting on the app, but then ask to switch to a video chat so you can at least see each other's faces.
3. Don't See Anyone Who Doesn't Believe in the Severity of COVID-19
"Bah, everyone's overreacting," a man you're talking to says.
Uh…hold on a minute. Do you really want to meet up with a man who doesn't take this situation as seriously as you do? A man who, quite possibly, isn't adhering to the "Do the 5" guidelines to avoid contracting the virus? Do you really want this man [ugggg] touching you with his germy hands?
It's like having sex with someone who doesn't believe in condoms. Unsafe. Stupid. Don't do it.
4. If You're Both Healthy, You Can Date
There's not YET a guideline saying you can't meet people in-person. So if you have reason to believe both of you are healthy, then your risk of catching the virus is low.
Meeting in-person can help move a relationship forward faster than relying on technology alone. At the worst, it'll let you know quickly whether there is chemistry you want to explore.
5. Don't Go on Any New Dates for Two Weeks
This is just my personal opinion, but I think the best way you can stay safe is to not go on dates with people you haven't already met in person. You can't get sick if you aren't around other people.
I hope you'll take these coronavirus dating safety tips seriously. We have to shift how we live and socialize right now, but hopefully, it won't last long.
Talk to me in the comments below: how is coronavirus affecting your dating life?
You can still use this time to work on yourself and define what you want in a relationship. The Sexy Confidence Club has tons of video courses, ebooks, and forum conversations designed to help you create the love life you adore. Sign up now.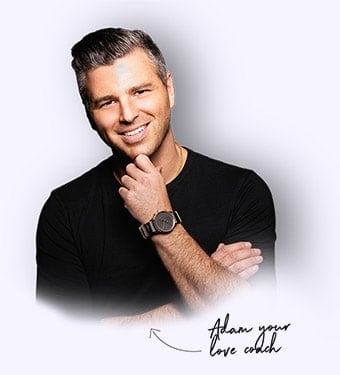 Love Strategist
My true passion in life is transforming your love life by giving you specific tools and techniques that you can use to attract long lasting love. I got started when...Read Adam's Story
What do you think? Share your thoughts below...