3 CLEAR Signs a Guy Likes You More than Just a Friend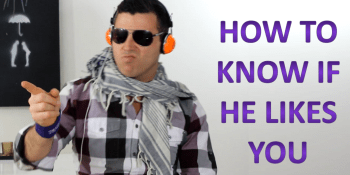 Lasting Love is the result of a powerful strategy. Ready to get started? Click here to learn the strategy (it's free)
So you're getting the "feeling" that he's digging your style, but is he just being friendly or does he actually like you?
This is an age old question that women have spent many hours on Sunday afternoon's trying to decode.
Well now you can make your Sunday's slightly more productive, because this video will teach you exactly how to know if a guy likes you more than just a friend.
Editor's note: Ready to attract love with a proven strategy? Watch this free video to learn the 7 powerful steps
Watch the video for details.
Have you ever really liked a guy and over analyzed whether or not he liked you? Let us know in the comments section.
Your Wanna-Be-Playa,
Adam
What do you think? Share your thoughts below...